All this happened, more or less. The war parts, anyway, are pretty much true. One guy I knew really was shot in Dresden for taking a teapot that wasn't his. Another guy I knew really did threaten to have his personal enemies killed by hired gunmen after the war.
And so on. I've changed all the names.

I really did go back to Dresden with Guggenheim money (God love it) in 1967. It looked a lot like Dayton, Ohio, more open spaces than Dayton has. There must be tons of human bone meal in the ground.

I went back there with an old war buddy, Bernard V. O'Hare, and we made friends with a taxi driver, who took us to the slaughterhouse where we had been locked up at night as prisoner of war. His name was Gerhard Müller. He told us that he was a prisoner of the Americans for a while. We asked him how it was to live under Communism, and he said that it was terrible at first, because everybody had to work so hard, and because there wasn't much shelter or food or clothing. But things were much better now. He had a pleasant little apartment, and his daughter was getting an excellent education. His mother was incinerated in the Dresden fire-storm. So it goes.

He sent O'Hare a postcard at Christmastime, and here is what it said:
'I wish you and your family also as to your friend Merry Christmas and a happy New Year and I hope that we'll meet again in a world of peace and freedom in the taxi cab if the accident will.'
I like that very much: 'If the accident will.'

I would hate to tell you what this lousy little book cost me in money and anxiety and time. When I got home from the Second World War twenty-three years ago, I thought it would be easy for me to write about the destruction of Dresden, since all I would have to do would be to report what I had seen. And I thought, too, that it would be a masterpiece or at least make me a lot of money, since the subject was so big.

But not many words about Dresden came from my mind then-not enough of them to make a book, anyway. And not many words come now, either, when I have become an old fart with his memories and his Pall Malls, with his sons full grown. I think of how useless the Dresden -part of my memory has been, and yet how tempting Dresden has been to write about, and I am reminded of the famous limerick:

There was a young man from Stamboul,
Who soliloquized thus to his tool,
'You took all my wealth
And you ruined my health,
And now you won't pee, you old fool'

And I'm reminded, too, of the song that goes

My name is Yon Yonson,
I work in Wisconsin,
I work in a lumbermill there.
The people I meet when I walk down the street,
They say, 'What's your name?
And I say,
'My name is Yon Yonson,
I work in Wisconsin...

And so on to infinity.

Over the years, people I've met have often asked me what I'm working on, and I've usually replied that the main thing was a book about Dresden.

I said that to Harrison Starr, the movie-maker, one time, and he raised his eyebrows and inquired, 'Is it an anti-war book?'
'Yes,' I said. 'I guess.'
'You know what I say to people when I hear they're writing anti-war books?'
'No. What do you say, Harrison Starr?'
'I say, "Why don't you write an anti-glacier book instead?"'
What he meant, of course, was that there would always be wars, that they were as easy to stop as glaciers. I believe that too.

And, even if wars didn't keep coming like glaciers, there would still be plain old death.

*

A couple of weeks after I telephoned my old war buddy, Bernard V. O'Hare, I really did go to see him. That must have been in 1964 or so-whatever the last year was for the New York World's Fair. Eheu, fugaces labuntur anni. My name is Yon Yonson. There was a young man from Stamboul.

[...]

And the sun went down, and we had supper in an Italian place, and then I knocked on the front door of the beautiful stone house of Bernard V. O'Hare. I was carrying a bottle of Irish whiskey like a dinner bell.

I met his nice wife, Mary, to whom I dedicate this book. I dedicate it to Gerhard Müller, the Dresden taxi driver, too. Mary O'Hare is a trained nurse, which is a lovely thing for a woman to be.

[...]

That was about it for memories, and Mary was still making noise. She finally came out in the kitchen again for another Coke. She took another tray of ice cubes from the refrigerator, banged it in the sink, even though there was already plenty of ice out.

Then she turned to me, let me see how angry she was, and that the anger was for me.

She had been talking to herself, so what she said was a fragment of a much larger conversation.
"You were just babies then!' she said.
'What?" I said.
'You were just babies in the war-like the ones upstairs! '

I nodded that this was true. We had been foolish virgins in the war, right at the end of childhood.

'But you're not going to write it that way, are you.' This wasn't a question. It was an accusation.
'I-I don't know,' I said.
'Well, I know,' she said. 'You'll pretend you were men instead of babies, and you'll be played in the movies by Frank Sinatra and John Wayne or some of those other glamorous, war-loving, dirty old men. And war will look just wonderful, so we'll have a lot more of them. And they'll be fought by babies like the babies upstairs.'

So then I understood. It was war that made her so angry. She didn't want her babies or anybody else's babies killed in wars. And she thought wars were partly encouraged by books and movies.

So I held up my right hand and I made her a promise 'Mary,' I said, 'I don't think this book is ever going to be finished. I must have written five thousand pages by now, and thrown them all away. If I ever do finish it, though, I give you my word of honor: there won't be a part for Frank Sinatra or John Wayne.
'I tell you what,' I said, 'I'll call it The Children's Crusade.'
She was my friend after that.

***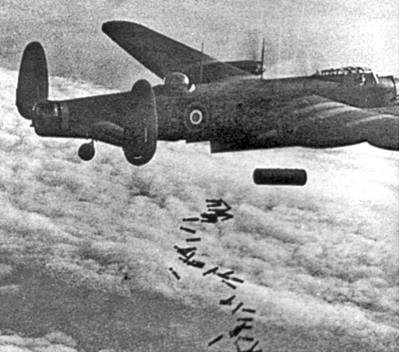 Billy looked at the clock on the gas stove. He had an hour to kill before the saucer came. He went into the living room, swinging the bottle like a dinner bell, turned on the television. He came slightly unstuck in time, saw the late movie backwards, then forwards again. It was a movie about American bombers in the Second World War and the gallant men who flew them.
Seen backwards by Billy, the story went like this:

American planes, full of holes and wounded men and corpses took off backwards from an airfield in England. Over France a few German fighter planes flew at them backwards, sucked bullets and shell fragments from some of the planes and crewmen. They did the same for wrecked American bombers on the ground, and those planes flew up backwards to join the formation.

The formation flew backwards over a German city that was in flames. The bombers opened their bomb bay doors, exerted a miraculous magnetism which shrunk the fires gathered them into cylindrical steel containers, and lifted the containers into the bellies of the planes. The containers were stored neatly in racks.

The Germans below had miraculous devices of their own, which were long steel tubes. They used them to suck more fragments from the crewmen and planes. But there were still a few wounded Americans, though, and some of the bombers were in bad repair. Over France, though, German fighters came up again, made everything and everybody as good as new.

When the bombers got back to their base, the steel cylinders were taken from the racks and shipped back to the United States of America, where factories were operating night and day, dismantling the cylinders, separating the dangerous contents into minerals.

Touchingly, it was mainly women who did this work. The minerals were then shipped to specialists in remote areas. It was their business to put them into the ground., to hide them cleverly, so they would never hurt anybody ever again.

The American fliers turned in their uniforms, became high school kids. And Hitler turned into a baby, Billy Pilgrim supposed. That wasn't in the movie. Billy was extrapolating. Everybody turned into a baby, and all humanity, without exception, conspired biologically to produce two perfect people named Adam and Eve, he supposed.


***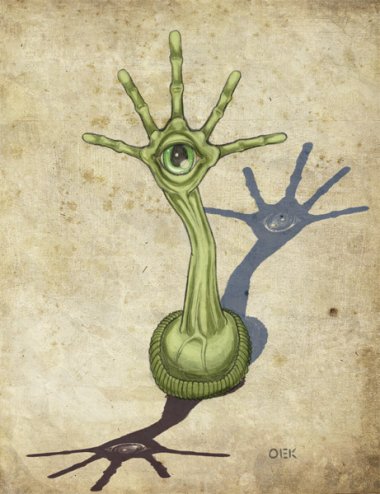 Another month went by without incident, and then Billy wrote a letter to the Ilium News Leader, which the paper published. It described the creatures from Tralfamadore.

The letter said that they were two feet high, and green, and shaped like plumber's friends. Their suction cups were on the ground, and their shafts, which were extremely flexible, usually pointed to the sky. At the top of each shaft was a little hand with a green eye in its palm. The creatures were friendly, and they could see in four dimensions. They pitied Earthlings for being able to see only three.

***

Billy expected the Tralfamadorians to be baffled and alarmed by all the wars and other forms of murder on Earth. He expected them to fear that the Earthling combination of ferocity and spectacular weaponry might eventually destroy part or maybe all of the innocent Universe. Science fiction had led him to expect that.

But the subject of war never came up until Billy brought it up himself. Somebody in the zoo crowd asked him through the lecturer what the most valuable thing he had learned on Tralfamadore was so far, and Billy replied, 'How the inhabitants of a whole planet can live in peace I As you know, I am from a planet that has been engaged in senseless slaughter since the beginning of time. I myself have seen the bodies of schoolgirls who were boiled alive in a water tower by my own countrymen, who were proud of fighting pure evil at the time. '

This was true. Billy saw the boiled bodies in Dresden. 'And I have lit my way in a prison at night with candles from the fat of human beings who were butchered by the brothers and fathers of those school girls who were boiled.

Earthlings must be the terrors of the Universe! If other planets aren't now in danger from Earth, they soon will be. So tell me the secret so I can take it back to Earth and save us all: How can a planet live at peace?'

Billy felt that he had spoken soaringly. He was baffled when he saw the Tralfamadorians close their little hands on their eyes. He knew from past experience what this meant: He was being stupid.

'Would-would you mind telling me,' he said to the guide, much deflated, 'what was so stupid about that?'

'We know how the Universe ends,' said the guide, 'and Earth has nothing to do with it, except that it gets wiped out, too.'

'How-how does the Universe end?' said Billy.

'We blow it up, experimenting with new fuels for our flying saucers. A Tralfamadorian test pilot presses a starter button, and the whole Universe disappears.' So it goes.

"If You know this," said Billy, 'isn't there some way you can prevent it? Can't you keep the pilot from pressing the button?'

'He has always pressed it, and he always will. We always let him and we always will let him. The moment is structured that way.'

'So,' said Billy gropingly, I suppose that the idea of, preventing war on Earth is stupid, too. '

'Of course.'

'But you do have a peaceful planet here.'

'Today we do. On other days we have wars as horrible as any you've ever seen or read about. There isn't anything we can do about them, so we simply don't look at them. We ignore them. We spend eternity looking at pleasant moments-like today at the zoo. Isn't this a nice moment?'

'Yes.'

'That's one thing Earthlings might learn to do, if they tried hard enough: Ignore the awful times, and concentrate on the good ones.'
'Um,' said Billy Pilgrim.
×