Zeuch hin, betrübtes Jahr! Zeuch hin mit meinen Schmerzen!
Zeuch hin mit meiner Angst und überhäuften Weh!
Zeuch so viel Leichen nach! Bedrängte Zeit, vergeh
Und rühre mit dir weg die Last von diesem Herzen!

Herr, vor dem unser Jahr als ein Geschwätz und Scherzen,
Fällt meine Zeit nicht hin wie ein verschmelzter Schnee?
Laß doch, weil mir die Sonn gleich in der Mittagshöh,
Mich noch nicht untergehn gleich ausgebrennten Kerzen!

Herr, es ist genung geschlagen,
Angst und Ach genung getragen,
Gib doch nun etwas Frist, daß ich mich recht bedenke!

Gib, daß ich der Handvoll Jahre
Froh werd eins vor meiner Bahre!
Mißgönne mir doch nicht dein liebliches Geschenke!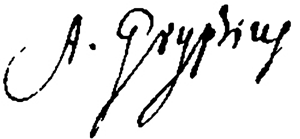 Contributed by Riccardo Venturi - 2006/4/14 - 18:59
---
FINE DELL'ANNO 1648

Vattene, anno di dolore! Vattene via assieme alle mie pene!
Vattene via con la mia angoscia e il mio terribile dolore!
Pòrtati via i cadaveri! O tempo d'oppressione, passa via
e rimuovi alfine tutto il peso da questo cuore!

Signore, per cui questo nostro anno non è che un'inezia,
il mio tempo non è scaduto come neve sciolta?
Poiché il sole ora mi splende in pieno mezzogiorno,
non farmi svanir via come ceri consumati dal fuoco|

Signore, abbastanza si è combattuto,
abbastanza sofferte angosce e pene,
concedi ora un po' di tregua da potermene giovare!

Concedimi di vivere felice
quella manciata d'anni prima della morte!
Non farmi mancare il tuo dono d'amore!
×
Note for non-Italian users: Sorry, though the interface of this website is translated into English, most commentaries and biographies are in Italian and/or in other languages like French, German, Spanish, Russian etc.