Imagine
'Imagine', which says: 'Imagine that there was no more religion, no more country, no more politics,' is virtually the Commun...
Sai dove
Io proporrei di suonare anche questa nelle parrocchie, ma forse il problema è che è un po' meno pop di Imagine.
La voce dei sommersi
Se ne va forse uno dei più grandi compositori, uno che ha scritto per il cinema, ma anche per la musica pop, ha scritto per...
Cara burbetta
Io che ho fatto il soldato (12 mesi, 1996), ricordo Cara Burbetta un po' diversa:

Забрује тако пјесме знане !
Итальянский перевод / Traduzione italiana / Italian translation / Traduction italienne / Italiankielinen käännös :

A morte devagar [Le onde]
Böhm-Jacopini... giusto... tre strutture di controllo e tutto il resto è zucchero sintattico. Solo che nei siti web oltre...
A morte devagar [Le onde]
Lorenzo, la sorpresa rimane, anche spostandosi dal MS verso Böhm-Jacopini , Quine-McCluskey e chissà quanti altri fondamenti a...
Login to Admin
As an Administrator, you can log in and manage or contribute new songs without confirmation or approval by Admin
Contacts
AntiWar Songs - Canzoni contro la guerra is on line since the night of 2003/3/20, the day the US launched their attack on Iraq.
To comply with the EU Privacy Laws we're bound to inform you that some third party services used on out website could use cookies. antiwarsongs.org only uses session cookies. Learn more or sing the blues

Search
Song Itineraries

Random Song
Probably the most complete page in the world on the workers' world hymn, which also has a strong antimilitarist element
Canzoni contro la guerra Anti-war Songs Chansons contre la guerre Antikriegslieder Canciones contra la guerra Canções contra a guerra Cântece împotrivă războiului Avτιπoλεμικά τραγούδια Cançons contra la guerra Пecни против войны Liederen tegen de oorlog Gerraren kontrako abestiak Amhráin in aghaidh an chogaidh Kanaouennoù a-enep ar brezel Sånger mot kriget Antikrigssange Antikrigssanger Antikrigssongar Antiratne pjesme Антиратне песме שירים נגד המלחמה Háborúellenes dalok اغاني ضد الحرب 反戦歌 反对战争的歌曲 Savaş karşıtı şarkılar לידער קעגן די מלחמה Pieśni przeciwko wojnie Песни против войната Песни против војната Kontraŭmilitaj kantoj Bello atque militiae adversa carmina Protiválečné písně Protivojnové piesne Sodanvastaisia lauluja Protivojne pesmi Nhạc phản chiến Nyimbo dhidi ya vita Kënge kundër luftës Chanzuns cunter la guerra Caneuon gwrth-ryfel विरोधी युद्ध गाने 전쟁에 반대하는 노래 Anti-karo dainos Kanzunetti kontra l-gwerra เพลงต่อต้านสงคราม Lagu-lagu anti-perang Candāi nyimŭd to vogēr Чандāи њимыд то вогēр Sõjavastased laulud Liedere teen die oorlog Пісні проти війни Purahéi rehe pe ñorairõ Lög gegn stríði Mga kanta laban sa digmaan Sangir ímóti kríggi Συλλογὴ ᾀσμάτων καὶ ᾀσματίων ἐναντίον τοῦ πολέμου Wey ak khekh Aнтываенны песняй ترانه‌های ضدجنگ երգեր դեմ պատերազմը Chante kont lagè სიმღერის წინააღმდეგ ომი Awọn orin lòdì si ogun போருக்கு எதிரான இசை جنگ کے خلاف گانے ، نغمے Heesaha ka dhanka ah dagaalka ዘፈንች እና ሙዚቃ ፀረ ጦርነት Gil'i angle o mariben Müharibə əleyhinə mahnılar Cancións contra a guerra Dziesmas pret karu Takikuna awqa awqanakuywan གཞས ཁ་ཐད་དུ དམག་འཁྲུག Antichriegs-Liedli યુદ્ધ સામે ગાયન ಯುದ್ಧದ ವಿರುದ್ಧ ಹಾಡುಗಳು యుద్ధం వ్యతిరేకంగా పాటలు Lagu menentang peperangan Hira manohitra akaiky ny ady Saggwos wiþra þata wigan jah drauhtinassu যুদ্ধের বিরুদ্ধে গান Cjantosis cuintri la vuere Canow erbyn an bresel ສາວຕ້ານສົງຄາມ Waƙya-waƙyen da yaƙi Singsing i go long pait Cantones contra a sa gherra Canzone contru à a guerra Urushga qarshi ashulalar Arraneyn noi'n chaggey Kantunan kontra e gera Дайны эсрэг дуунууд Tchansons conte l' guêre Canzone contr'â uerra Amaculo aphambene empi Mga awit batok sa gubat បទចម្រៀងប្រឆាំងនឹងសង្គ្រាម Nkauj tawm tsam tsov rog युद्ध विरुद्ध गीतहरु Lieten tsjin de oarloch Ngā waiata ki te pakanga Amaculo ngokumelene impi Amhrain an aghaidh cogaidh Сурудҳо зидди ҷанг Cоғыс қарсы әндер യുദ്ധം നേരെ ഗാനങ്ങൾ Lipina khahlanong le ntoa گۆرانيى دژ بەجەنگ Nziyo dzokurwisana nehondo Lejossiƙ ƕrwa tŧeryγ nwơƕie Nyimbo zotsutsana ndi nkhondo Lidder géint de Krich Abụ megide agha යුද්ධයට එරෙහිව ගීත Gimi dow konu 'e darɗe 'amaana
This database contains 32315 songs by 9829 different authors and 48281 versions, translations and commentaries in 155 / 169 languages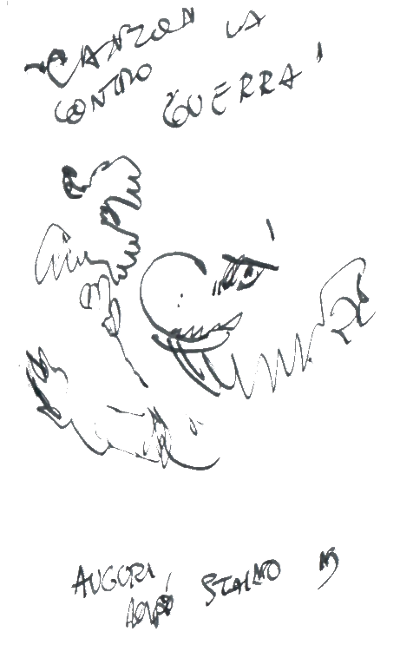 ---
Fast website address: http://www.antiwarsongs.org
All times in GMT +1 timezone
Please send your comments and remarks on this website to antiwarsongs@gmail.com or to one of the administrators: Lorenzo Masetti, Riccardo Venturi, Adriana, Nicola Ruggiero, Daniela "k.d." and DonQuijote82.
An idea of:
Newsgroup it.fan.musica.guccini
Newsgroup it.fan.musica.de-andre
Mailing List " Fabrizio "
Mailing List " Bielle " - http://www.bielle.org
Parole di pace

This Site is hosted by autistici.org.

Note for non-Italian users: Sorry, though the interface of this website is translated into English, most commentaries and biographies are in Italian and/or in other languages like French, German, Spanish, Russian etc.